Closes, before the first impact.
Schützt in der Luft, vor dem Aufprall.
This is Klak:
A case that closes automatically as soon as you drop your smartphone, protecting your smartphone and especially the screen before impact.
★★★★

Ihre Aufgabe erfüllt die Hülle wirklich überragend, nämlich das Telefon im Sturzfalle so schnell wie möglich unter Verschluss zu bringen, sodass Displayschäden nahezu ausgeschlossen sein sollten.
★★★★★

Ich bin durch Zufall über eure Seite gestolpert und finde die Hülle super. Das größte Problem der Handyhüllen wäre schon mal behoben, danke dafür!
★★★★

Die Schutzwirkung der Hülle ist wirklich gut. Das Telefon wird allseitig von robustem Kunststoff umschlossen und der Deckel klappt instantan zu, wenn man ihn loslässt - da hat sich der Entwickler was einfallen lassen.
★★★★★

"Klak" ist das Geräusch, dass die Hülle macht, wenn sie von allein zu schnappt. Das funktioniert hervorragend. Großer Pluspunkt: die Hülle hatte nach dem Auspacken keinerlei Eigengeruch. Das Material fühlt sich angenehm an und lässt sich besser abwaschen als meine alte Hülle.
★★★★

Es gibt für jede "Lebenslage" scheinbar die passende Handyhülle.
Diese hier ist empfehlenswert für z.B. Aktivitäten wo es doch dazu kommen kommen, dass einemdas Telefon während der Verwendung aus der Hand rutscht.
★★★★★

Die Hülle passt perfekt und das Telefon ist bestens von allen Seiten geschützt.
Die Kamera wird zusätzlich geschützt und ein Zerkratzen ist so nicht mehr möglich.
Die Qualität dieser Hülle ist einwandfrei.
Dank der schnellen Lieferung ist das Smartphone heil geblieben.
Das Design ist zeitlos und schön.
★★★★★

Das Klak Case ist absolut positiv und in dieser Preisklasse absolut top!

Insgesamt kann ich das Klak Case weiterempfehlen: Es ist sehr gut verarbeitet und liegt auch gut in der Hand. Wer handwerklich unterwegs ist, wie mein Mann, für den ist dieses Case etwas. Das Handy ist komplett von vorn und von hinten gesichert und dás Case hält einiges aus.

Von meinem Mann gibt es 5 gute Sterne. Preis Leistung ist sehr gut!
★★★★★

Zugegeben, ich war ja skeptisch... aber diese Hülle schützt das Handy sehr sicher vor Beschädigungen!

Die Handyhülle von Klak ist absolut neuartig und schützt das iPhone während es fällt - denn die Hülle verschließt sich automatisch.

Die Hülle ist passgenau für das iPhone 11 Pro, sie besteht aus festem Kunststoff und hat insgesamt eine saubere Verarbeitung. Die Bedienung ist natürlich ohne große Probleme möglich.
And here's how it works
Your smartphone slips out of your hand
Our Klak mechanism covers the screen in the blink of an eye
Protection, before impact
As seen on
Why do you need Klak?
Almost 48.5% of all smartphone users still have a damaged smartphone.**
With 80%, screen damage caused by falls is leading the statistics.**
This leads to up to one million damage reports at a large German repair comparison website - per month!**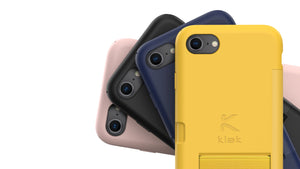 Adapted to your smartphone
Klak is precisely adapted to the shape of your smartphone. Almost as if you had no case at all.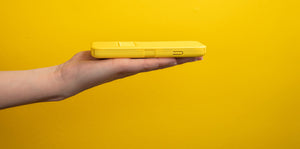 It doesn't get any thinner
Despite the protective cover, Klak is hardly thicker than your regular cases.

Whether classic black or sunny yellow - klak is available in four great colors.
Our Story
How we came up with Klak
We, Andreas and Tim, are the inventors of Klak. Read the Klak story here and learn how we developed our unique and safe case.
Learn more
Why is Klak better?
No lid: less protection.
Protective cases without a lid always leave the display exposed. Only the protrusion of the edge over the display serves as protection - just a few millimeters. That's not enough. Klak solves this problem.
Without Klak:
Force of impact hits the screen
If your smartphone falls on a sharp stone or similar, the full force of the impact - with or without screen protector - hits the screen directly. This can cause visible damage, such as scratches, or impairs the technology inside.
With Klak:
Case absorbs force of impact
Different with Klak: The automatic closing mechanism covers the screen while falling, before impact. This protects the screen and the case fully absorbs the force of impact.
Convinced? Shop cases now!